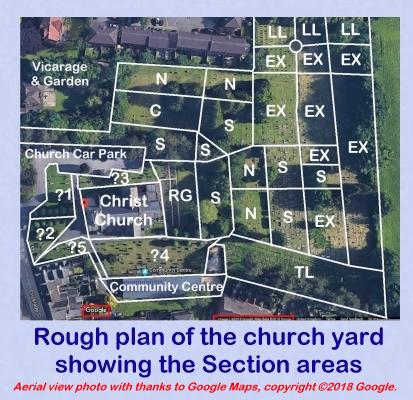 T
he graveyard at Christ Church is extensive and burials are still taking place. Although our aim is to eventually photograph all the gravestones, the reality is that we probably won't achieve this for some time, if at all. We have probably photographed approximately one quarter to one third of the gravestones.
Some of the gravestone inscriptions are very difficlt to read; if you download the full-size photograph you may be able to zoom in to see the detail better. We have had to guess at some of the names - we are sorry if we have guessed incorrectly. Please tell us if you notice a mistake so we can make the correction.
Thank you
If you are trying to find a particular gravestone and where it is located, you could try Christ Church's website
searchable database
which will give you plot number and other information for some of their 7,500 records. The transcription is not yet complete so not all records are available yet.
We will be happy to go and take a photograph of a particular gravestone if you give us the
section and plot number
as well as the
name
on the gravestone. The graveyard is far too big to try to find it without these details.