Tip: hold "shift" and click on link to open in new window

---


The Church of St. Mary Magdalene, Hullavington, Wiltshire
Transcription of Memorial
Back to photograph
The inscription on this memorial is now too eroded to read. This is our interpretation:
Near this Place lyeth the Body
of John Jacob Esqr.
Son of Thomas Jacob Esqr.
He Married Ann Daughter
of Nathaniel Stephens of
Eastington in ye County of Gloucester ...
He Died September 2d 1742
Aged 47

Near this Place also lyeth
the Body of the said Anne wife
of the above mentioned John Jacob
She died ......
This image is made up of many close range photographs put together like a jigsaw: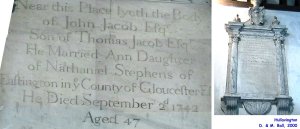 Back to photograph
---
---

Tip: hold "shift" and click on link to open in new window