Polyptych Menu
General Selection of Photographs
Text/info
T
his painted polyptych, dated 1615, was commissioned by Sir John St. John (the 1st Baronet) and believed to be the work of William Larkin. It is one of three commissions he undertook to commemorate his parents Sir John St. John (d.1594) and Lucy nee Hungerford (d.1598).
As there are in fact
eleven panels
- this is a
polyptych
- meaning 'many folds'. Older publications tend to refer to it as a
triptych
(just as we did for many years). We have noticed a change to calling it a polypytch so we too have changed our text to reflect this more accurate name.
We do not undertake research about the places we visit - we simply take photographs (and leave that hard work to others!). What we have written on this page is a mixture of our opinion, what we have viewed and what we have read elsewhere, and is aimed at giving you an overview.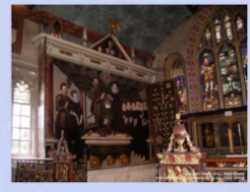 It is located in the chancel (to the left of the altar) and quite extraordinary to view. Its size is the first noticable thing, followed by the quality of the painting and admiration at the wealth of genealogical detail recorded on some panels, including the St. John link to the Royal family.
The door panels are normally kept closed but when opened the St. John family is revealed in a large portrait that covers three panels. It shows Sir John and Lucy knelt on a tomb under which are the three wooden coffins of their children who had died by the time of the painting; to their left is their son Sir John (1st Baronet) and his wife Anne (nee Leighton), and to their right are the six daughters of Sir John.
When the door panels are closed the outside two centre panels show thirty two maternal and paternal ancestors of Henry Lord Viscount Bolingbrook, whilst the two outer panels show ten lineal descendants of St. John families shown as coats of arms.
We have a diagram to explain the panel positions on the
Single Panels
page.
During the summer of 2014 the church and polyptych were opened up over several weekends and talks about the polyptych's interesting history were given.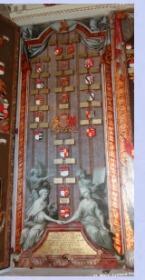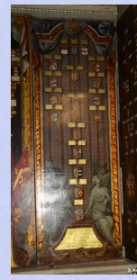 We were astonished to discover there are two panels we didn't even know existed - they are each usually covered by one panel when it is closed up and by a different panel when open.
These 'hidden' panels can only be seen during the actual opening and closing of other panels - something that isn't normally done whilst visitors are present. The speaker on the day explained he is one of only three people allowed to open these panels so we were fortunate we were able to see this movement which reveals these two hidden panels.
As you can imagine, this rare opportunity meant plenty of people wanting to take photographs, which lead to everyone having to politely wait their turn and gave each just a very short time to take their photographs so the talking could continue.
It appears to have become a regular event to open the doors over some weekends in summer for visitors to see the inside panels, plus other occasions such as flower festivals, anniversaries and Heritage Weekend (usually 2nd weekend of September). Should you want to visit when the inside can be viewed, it will be worth checking when they are open - one volunteer runs a Facebook page - called 'The Church in the Park' - and is knowledgeable about opening times and very helpful for other enquiries you may have about visiting. Go on a sunny day if you have the choice because there are not many windows allowing natural light in so the area feels rather dark, and on a sunless day the depth of colour is not as good.
The closed polyptych is also grand and equally worthy of a visit. Even that the artist managed to set out of the genealogical information with such symmetry is noteworthy in our opinion let alone the artistry of the fine detail of the painting. We cannot imagine how many hours must have been spent working on this piece and surely four hundred years of visitors have looked at it in awe just like we have. Each time we see it we notice something new - and it never disappoints!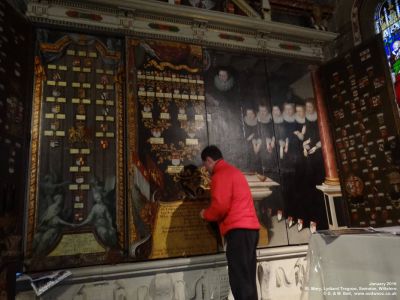 The polyptych part way through the opening/closing process of the panels.
Photographing this polyptych has proven difficult due to both its location and its size. We have returned to St. Mary's many times to try to take some decent photographs, but have never been pleased with our work.
It is too dark to photograph without a flash - the photographs come out too noisy (grainey). But a flash leaves a white area of glare in the picture. Windows on the opposite wall also cause some glare.
For us the most frustrating part of trying to photograph it is not being able to fit the entire polyptych into one shot from the front. To fit it all in we need to stand away from it, but there is a monument in the way, which leaves us with the choice of either cutting off the bottom or the top, or standing to one side but then the perspective is wrong! And being so far away means that detail is lost when zooming in to look at it.
No doubt professionals will know how to cope with these conditions, but we don't! We were almost pleased to learn that a professional photographer spent 6 hours battling to get a decent photograph; not pleased for him of course, but it did make us feel a bit better about our own efforts!
We have worked our way through 6 different cameras since we started to photograph it in 1999. At last, in 2012 we bought a camera that takes decent-ish photographs in these dark conditions despite the operator's lack of knowledge. We have been back to St. Mary's to take more photographs although there is still plenty more detail to take. How fortunate we are to live relatively close by and be able to visit it so often.