Chapter 5 - The Gladwins
Chapters 4 & 6 - Sarah Hannah Gladwin
Chapter 5a - Edwin Hope Gladwin
Original text written by Donald Lea in the early 1990s and updated by Don and Mandy in 2016/17.
Some names have been removed for privacy and some pictures excluded for copyright reasons.
Chapter 5 of the Lea family book:
THE GLADWINS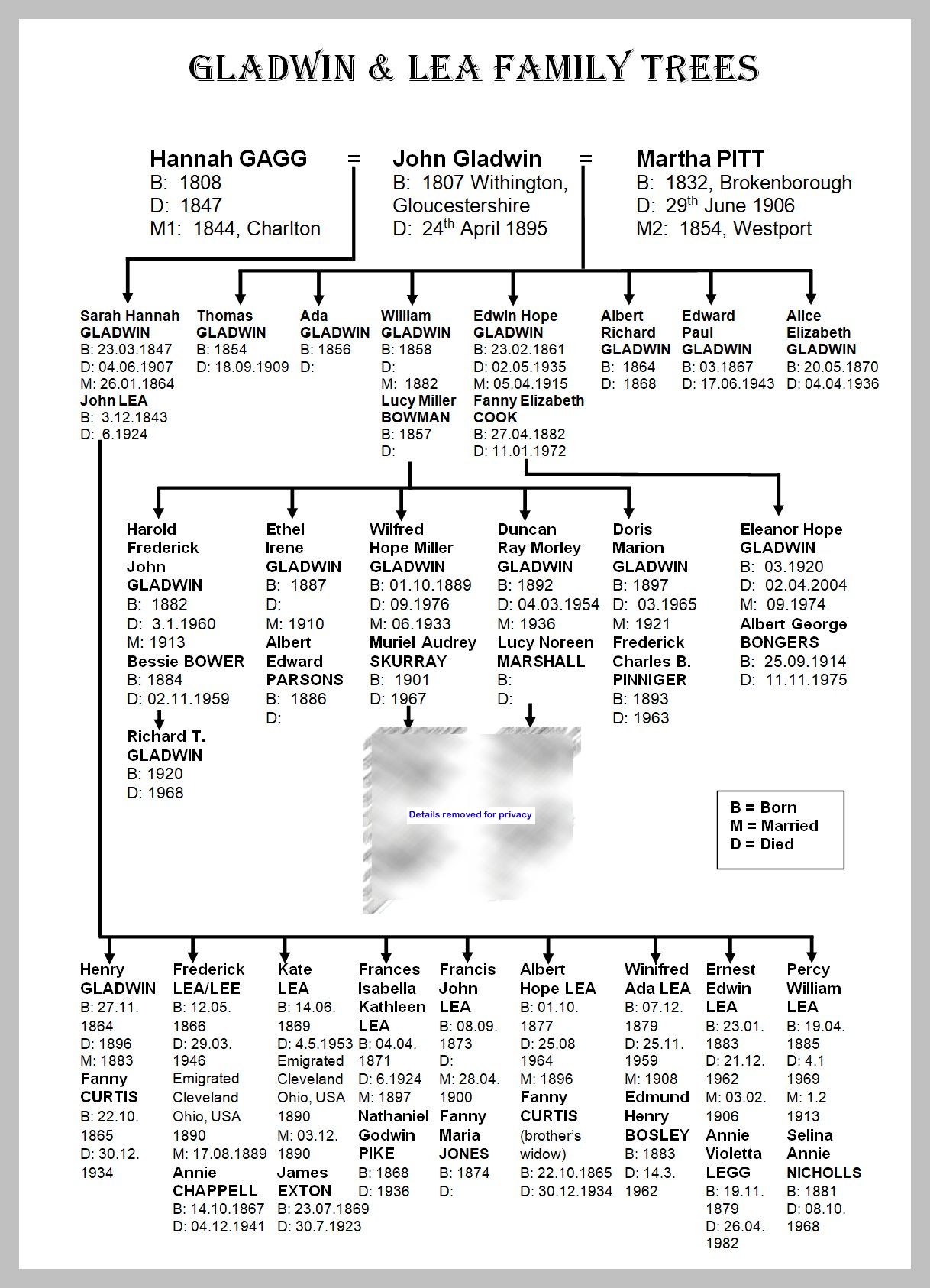 [Don Lea writes:]
It seems that an attempt at including the Gladwin name in the Lea family history is not only desirable but unavoidable. The name Gladwin pops up so often, not only on birth and marriage certificates but also in conversations with people living today who have a contribution to make in piecing together our family picture, and after all John Gladwin was one of my great great grandfathers and is surely therefore just as important as those who carried the Lea name. Our families were joined together when John Gladwin's daughter, Sarah Hannah, married John Lea, son of William and Elizabeth.
During the past two years I have pursued many avenues in an attempt to find descendants of John Gladwin's family, unsuccessfully until recently when after a visit to Malmesbury Public Library and a chat to the librarian, I discovered that [
name removed for privacy
] Gladwin, great grandson of John Gladwin, was living in [
removed
]. I wrote to [
removed
] expressing my wish to discuss our family connection and he replied inviting me to his home, a converted Tithe barn, to see his collection of family heirlooms left to him by his father [
removed
] that included such items as family photographs, paintings, poems and indentures dating back to the eighteenth century. I was astounded that so much family history had been kept together for so long by his father [
removed
] and grandfather [
removed
]. One article I found most fascinating was a book bound together in hard back covers and written in by John Gladwin when he was just ten years old, he dated it 1816. I confessed to [
removed
] that I was hoping he would have a photograph of my great grandmother, Sarah Hannah, amongst his treasures, unfortunately he did not. However I was overjoyed when he offered me a photograph of her father John, taken with his grandson Harold in September 1886.
Harold later became a baker in Malmesbury selling his products in his shop by the cross and in 1937 became the proprietor of the Malmesbury Coal Company, which he sold in 1947.
[
Paragraph removed for privacy
]
Great Great Grandfather John Gladwin.
John Gladwin, born 1806 at Withington, Gloucestershire, with his Grandson Harold.
Photograph taken September 1886 by HT Prince, Long Street, Dursley.


The Gladwin family home at Brokenborough near Malmesbury. Photographs 1990




The white posts were the entrance to the blacksmiths' yard and shed.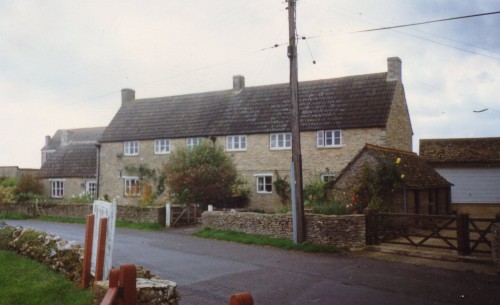 The lean-to building (left) attached to the house was once the village school.
Alice Elizabeth Gladwin, youngest child of Martha and John, was the school teacher at Brokenborough and would have had up to twenty pupils. She was also a Sunday School teacher.
On different occasions we had conversations with two of her (by then grown up) former pupils. One remembered as a small boy being told one morning to go to school wearing his Sunday best suit - a highly unusual request. All the pupils found themselves attending the funeral of their teacher and were very sad because Alice was kind and a very well-liked teacher indeed.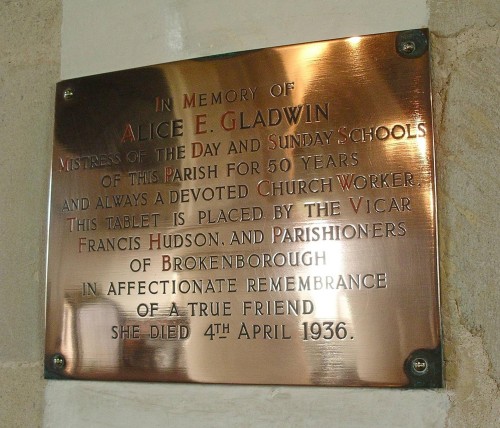 Memorial plaque in memory of Alice E. Gladwin,
Sunday school teacher at St. John the Baptist. Photo: 2008
Another former pupil recalled that Alice used to hand stitch little dolls for the girls at school - such a thoughtful act at a time when children would not have had many toys. This particular woman gave her much-loved doll to a visiting cousin who had taken a fancy to it - not because she wanted to but because a grownup had told her to. Even after all the time that had passed, she was still upset at having to give her doll away.
Alice left £1,343 3s. 8d. to her brother Edward Paul Gladwin in her Will.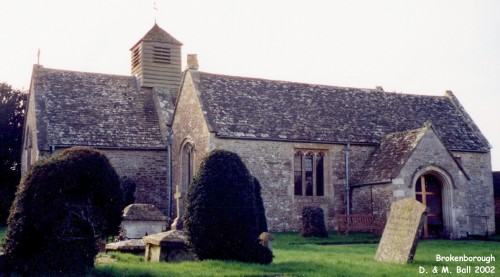 The church of St. John the Baptist in Brokenborough. Photo: 2002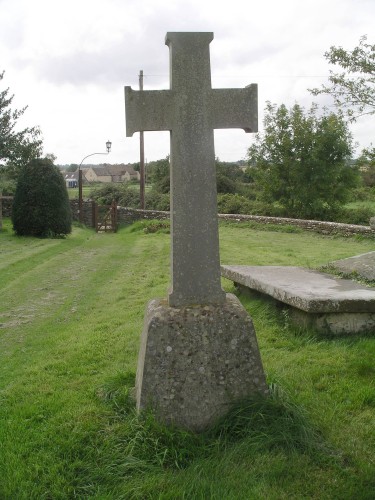 The grave of Alice Elizabeth and Edward Paul Gladwin in the churchyard of St. John the Baptist. Photo: 2008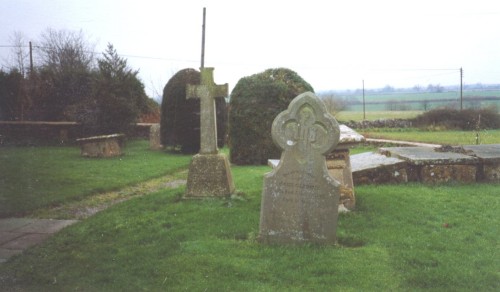 The graves of Alice and Edward (left) and their parents John and Martha Gladwin (right). Photo: 1990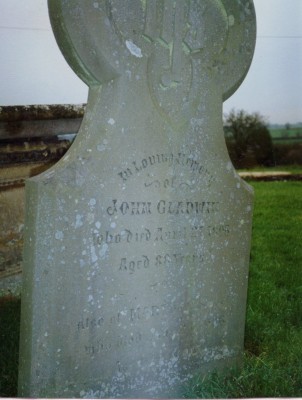 Inscription on the last resting place of John and Martha Gladwin. Photo: 1990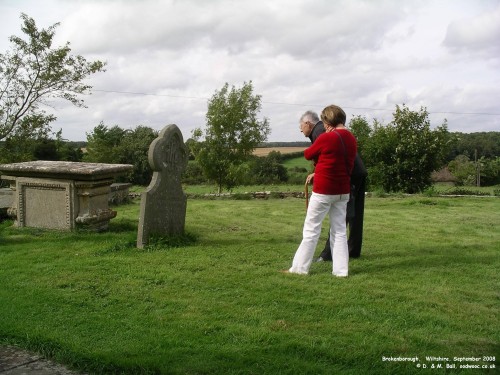 Maggie Eley (nee Lea) and Donald Lea, the great great grandchildren of John and Hannah (nee Gagg) Gladwin, visit the grave of John and his second wife Martha. Photo: 2008
John Gladwin was a blacksmith, as shown in the Census returns, and so were at least three of his sons and one grandson. The various Censuses show:
1881:
John, Thomas, William - all 'Blacksmith'
1891:
John - 'Blacksmith & sub-postmaster'
William - 'Shoeing & General Smith'
Thomas & Edward - 'General Smith'
1901:
Thomas & Edward - 'Farrier & General Smith'
Harold F. - 'Shoeing Smith'
1911:
Edward - 'Farrier & Blacksmith'
The Gladwins had a close association with the near-by church of St. John the Baptist and we noticed there are various metalwork details around the building. We might wonder if any are the work of a Gladwin blacksmith.

Some of the metalwork at the church - made by a Gladwin blacksmith perhaps? Photo: 2008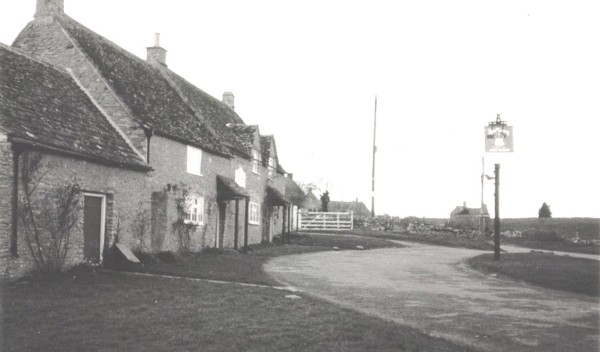 The Rose & Crown, Brokenborough, now re-named the Horse & Groom. Photo: 1990
My great grandmother Sarah Hannah was living in Stratton St. Margaret when she died on the 4th June 1907. I believe she was living with her son Ernie and daughter-in-law Annie who had married sixteen months earlier, but all attempts to find her last resting place have failed. The most obvious place would be in the cemetery in Green Road, Stratton St. Margaret and I believe this is where she is. Unfortunately the records from this period are missing, but checking through the parish church records, the alternative option to Green Road, shows that she was not buried in the church grounds. Her death was reported by my grandfather Albert Hope Lea who was living at 329 Cricklade Road, Penhill with his family.
Note:
After years of searching we managed to find where Sarah Hannah was buried - in Brokenborough, not at Stratton St. Margaret as the book wondered.
Chapter 5 - The Gladwins
Chapters 4 & 6 - Sarah Hannah Gladwin
Chapter 5a - Edwin Hope Gladwin