Tip: hold "shift" and click on link to open in new window

---


Brokenborough, Wiltshire
Chapters 5a - Finding Edwin Hope Gladwin
Chapter 5 - The Gladwins
Chapters 4 & 6 - Sarah Hannah Gladwin
Chapter 5a - Edwin Hope Gladwin
Please note
Mandy wrote this chapter of the book in 2016/17 with the information we had discovered at that time. No doubt more information will come to light after more research, but
this
is what was written in the book.
Some names have been removed for privacy and some pictures have not been included for copyright reasons.
Chapter 5a of the Lea family book:
Finding EDWIN HOPE GLADWIN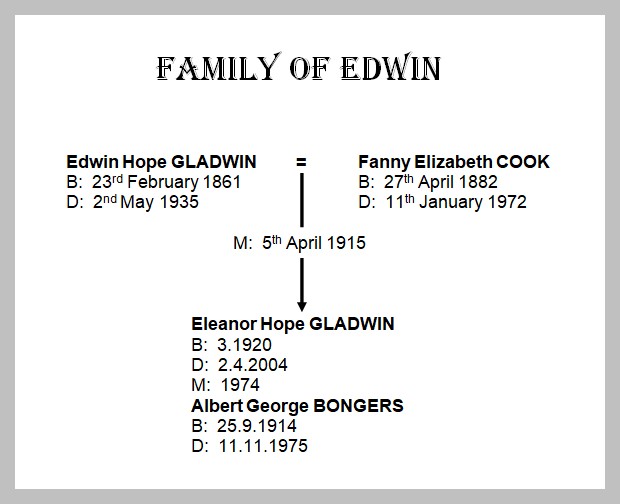 Edwin Hope Gladwin
23rd February 1861 ~ 2nd May 1935
Written by Mandy Ball (nee Lea)
Edwin was my great-great grandmother's brother. At time of writing we still have a lot of research to do about Edwin. However, set out below is what I have found out about him so far. So I suppose this chapter is a combination of my notes and discoveries.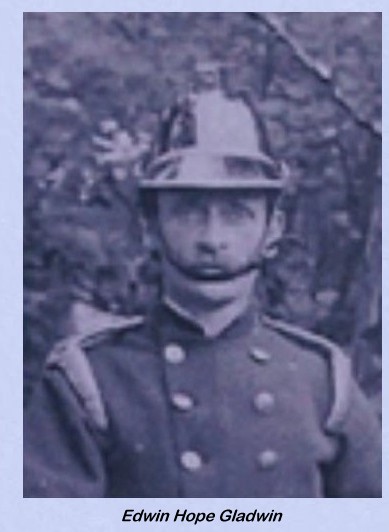 For many years Edwin was 'lost' to us as we could not find out what happened to him. Edwin had a ticket to travel to Cleveland, Ohio in America, so naturally the assumption was that that is where he went. Quite a few of our family members moved to Ohio and my father had made contact with some of them but no one there knew of Edwin. So it appeared he never completed that journey - so our question was, therefore, where did he go?
My own journey to find Edwin started when I put a plea on my website (www.oodwooc.co.uk) asking for help to find him. I was fortunate that many people from all over the world responded and let me know that he did not show up in records for their part of the world. Eventually I could say where he was not, but I still could not say where he was!
The breakthrough came when the 1911 British Census was released - I found him living in Woodhall Spa, Lincolnshire, England. But how did he end up there? Why not America?
Those questions aside, now I had a location for him I could look for further records, and I discovered Edwin was in London for the 1881 Census and in Woodhall Spa, Lincolnshire, back in the 1891 and 1901 Censuses too. Why he didn't go to America and how he came to be in Woodhall Spa I have never found out.
In July 2013 I visited Woodhall Spa taking the information I had found and a host of questions. With the help of local historians, the Woodhall Spa Cottage Museum and an author, I was able to visit the places Edwin lived and worked, make sense of some of the place names I had found in various documents, and I even held a piece of paper that Edwin also held as he put his signature to it in December 1927. Marvellous! And thanks to a visitor to our website who lives in Bristol, I have even been able to see photographs of Edwin and see his writing on postcards. Incredible.
I feel privileged to be able to visit these places. On the last day of our visit I found Edwin's grave and was able to stay a while and contemplate my journey to find him.
There are still many questions I have about his life, some of which will probably never be answered, but for the moment at least there is a feeling that I have 'found' our Edwin.
An overview of information about Edwin.
Born on 23rd February 1861 [7] in Brokenborough, Wiltshire. [1]
Married 5th April 1915 to Fanny Elizabeth Cook. [4] [5]
One child, Eleanor Hope Gladwin, born in 1920. [2]
Lived in King Edward Road, Woodhall Spa, Lincolnshire. [5]
Died at Albion House, Witham Road, 2nd May 1935 in Woodhall Spa. [6]
Buried in St. Andrew's Church yard, Woodhall Spa. [7]


Worked at Humpherson's Engineering Works in Woodhall Spa. [1]
Managed and owned business at 27 and 31 Witham Road, Woodhall Spa. [1]
Captain of Urban District Council's Fire Brigade in Woodhall Spa. [9]


Sources:

[1]
[2]
[3]
[4]
Census.
Birth Register.
Death Register.
Marriage Register.
[5]
[6]
[7]
[8]
Marriage Certificate.
Death Certificate.
Gravestone inscription.
Photograph.
| | | |
| --- | --- | --- |
| | [9] | "Woodhall Spa Past and Present" by Marjorie Sargeant. (ISB: 09546443-3-6). |
Census:
1861 -
1871 -
1881 -
1891 -
1901 -
1911 -
living in Brokenborough (aged 2 months).
living in Brokenborough (now aged 10).
living in 34 Sumner Road, Camberwell, London (aged 20). Carman.
living in 19 The Mall, Woodhall Spa (aged 30). Plumber.
living in Beaufort Works, Woodhall Spa (aged 40). Manager of Ironmonger/Plumbing.
living at 2 Station Road, Woodhall Spa (aged 50). Ironmonger and Plumber.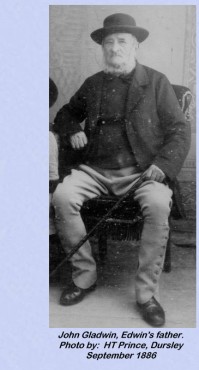 More About Edwin

Edwin was born on 23rd February 1861 in Brokenborough, Wiltshire. His parents were Martha (nee Pitt) and John Gladwin who had married in 1854 - they had seven children together.

John had previously been married to Hannah Gagg, who died as a result of child-birth; the child born to them was a daughter, named Sarah Hannah Gladwin - my paternal great-great grandmother.

Edwin's siblings, in order of birth:
Sarah Hannah Gladwin
Thomas Gladwin
Ada Gladwin
William Gladwin
Edwin Hope Gladwin
Albert Richard Gladwin
Edward Paul Gladwin
Alice Elizabeth Gladwin

Edwin grew up in the family home in Brokenborough. The Gladwins were obviously business-minded for they ran the blacksmith's and Post Office in Brokenborough and were also coal merchants and bakers in near-by Malmesbury. One sister, Alice Elizabeth Gladwin, was a schoolteacher and the schoolroom was the lean-to attached to the family home, which is to the left of the house in the photograph below.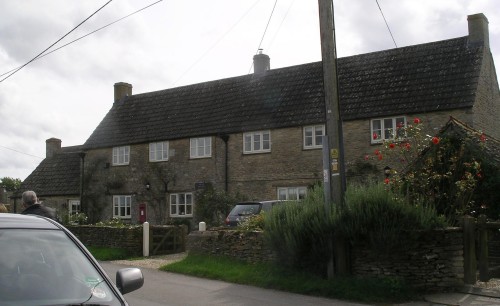 The Gladwin family home in Brokenborough. Photo: 2008



We believed Edwin had emigrated to Cleveland, Ohio, USA, on 17th March 1882, partly due to the documents shown here, and partly due to not finding him in any other documents relating to Brokenborough or Malmesbury or surrounding counties from the date of his ticket onwards.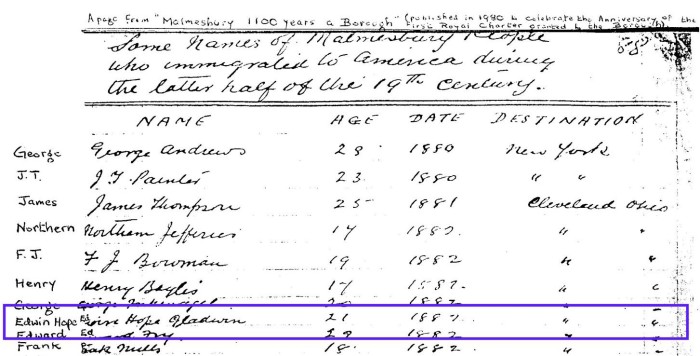 Malmesbury Emigration List showing Edwin left for Cleveland, Ohio in 1882.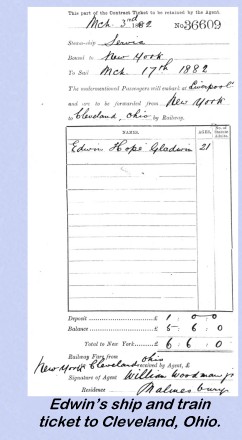 Many residents of Malmesbury and Brokenborough emigrated to Cleveland during the last part of the 19th Century, including some of our family. Edwin had purchased a ticket in Malmesbury which would have taken him to New York by ship and then to Cleveland by train.

My father, Donald, is in contact with descendants of some of the family that emigrated at this time. As you can imagine, family members would be very keen to keep in touch with each other after emigrating, but nobody there knew of Edwin.

Because nobody in Cleveland knew what had happened to Edwin, Donald employed a researcher to search for him. She failed to find any record of him in America - including going through the port records in New York; this led her to believe Edwin had not gone to America after all.

After buying his ticket to America, we do not know what happened to Edwin until he is to be found in the 1881 Census, living at 34 Sumner Road, Camberwell, London, where he was boarding with the Eldridge Family. His occupation at that time was 'Carman' although quite what that means I do not know - whether he worked as a mechanic or made cars or perhaps it could even mean someone who drove cars for a living.

By 1891 Edwin had reached Woodhall Spa, where he was lodging at the house of Susie Chapman. At that time his occupation was given as Plumber. The picture below is a rough sketch of the areas associated with him.

Below: Locations in Woodhall Spa associated with Edwin.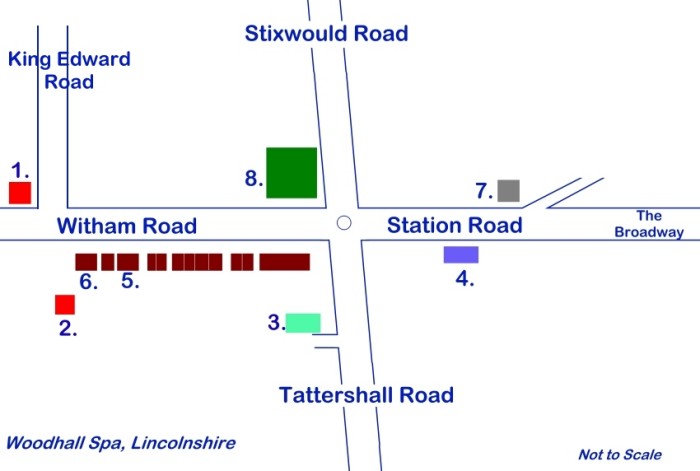 [1]
[2]
[3]
[4]
[5]
[6]
[7]
[8]
Location of the current fire station.
Location of the fire station at the time Edwin was Captain.
Location of Humpherson's shop in Tattershall Road.
The Mall. (Now a public house, but at that time may have included a larger part of the road.)
31 Witham Road.
27 Witham Road.
2 Station Road.
St. Andrew's Church Yard.


The 1891 Census shows Edwin, aged 30, was a plumber and was lodging at '19 The Mall'. There were two others residing there at the time of the Census - Susie Chapman (aged 55), the Head of Household and Adelaide Lomas (aged 30), Visitor, from Nottingham, who was 'living on own means'.

The number '19' causes us problems - it may refer to part of the address or is it simply building 19 on the route the taker took?

Having spoken to someone in the Cottage Museum I understand The Mall used to be an area in what is now part of Station Road/The Broadway, which was destroyed by a bomb during the second world war However, the 'Woodhall Spa Past and Present' book, only refers to The Mall as being the pub.

Surely the Census was not referring to Room 19 in the pub? The particular page of the Census return shows there were 27 people living in numbers 1 to 20 The Mall Would the pub have had that many rooms? Today's building doesn't look big enough, which tends to infer it refers to the area not just the pub.

Perhaps a clue may be gained from the document 'Woodhall Spa Conservation Area Appraisal' of 2008:


"6.6.4 The conservation area continues further southwards on the eastern side however. Sadly, what was the most imposing building in the heart of the town, the Royal Hotel, was destroyed in the Second World War. This occupied the corner of Station Road forming part of a large block containing flats and shops and stretching back to The Mall PH."


So perhaps Edwin's home was an apartment or flats. More investigation is needed!

During my visit to Woodhall Spa in 2013 I photographed the part of the road may have been part of the area of The Mall - the pub of that name is to the right in the first photograph.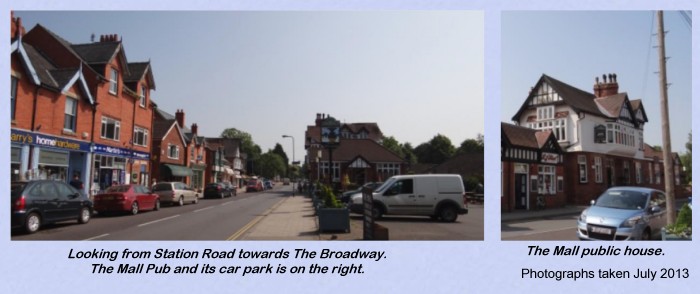 By the time of the 1901 Census Edwin was Manager of Ironmongery/Plumbing at 'Beaufort Works' in Woodhall Spa. Edwin was the Head and there were two others in residence: Harry J. Jobson, 23, Cycle Fitter and Sophia Platt, 29, Housekeeper.

In 1911 Edwin was living at 2 Station Road in Woodhall Spa and was an Ironmonger and Plumber.

We know Edwin worked for Humpherson's Engineering Works in Woodhall Spa. This covered an area behind Witham Road and Tattershall Road, roughly in a rectangle behind the rows of houses and shops. Edwin later owned 31 Witham Road, a shop simply known as 'Gladwin's'.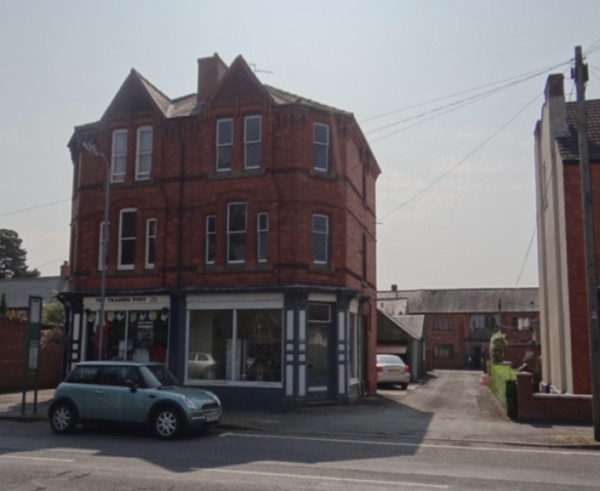 Above: 31 Witham Road, Woodhall Spa. Formerly 'Gladwin's', now 'The Trading Post.' Photo: July 2013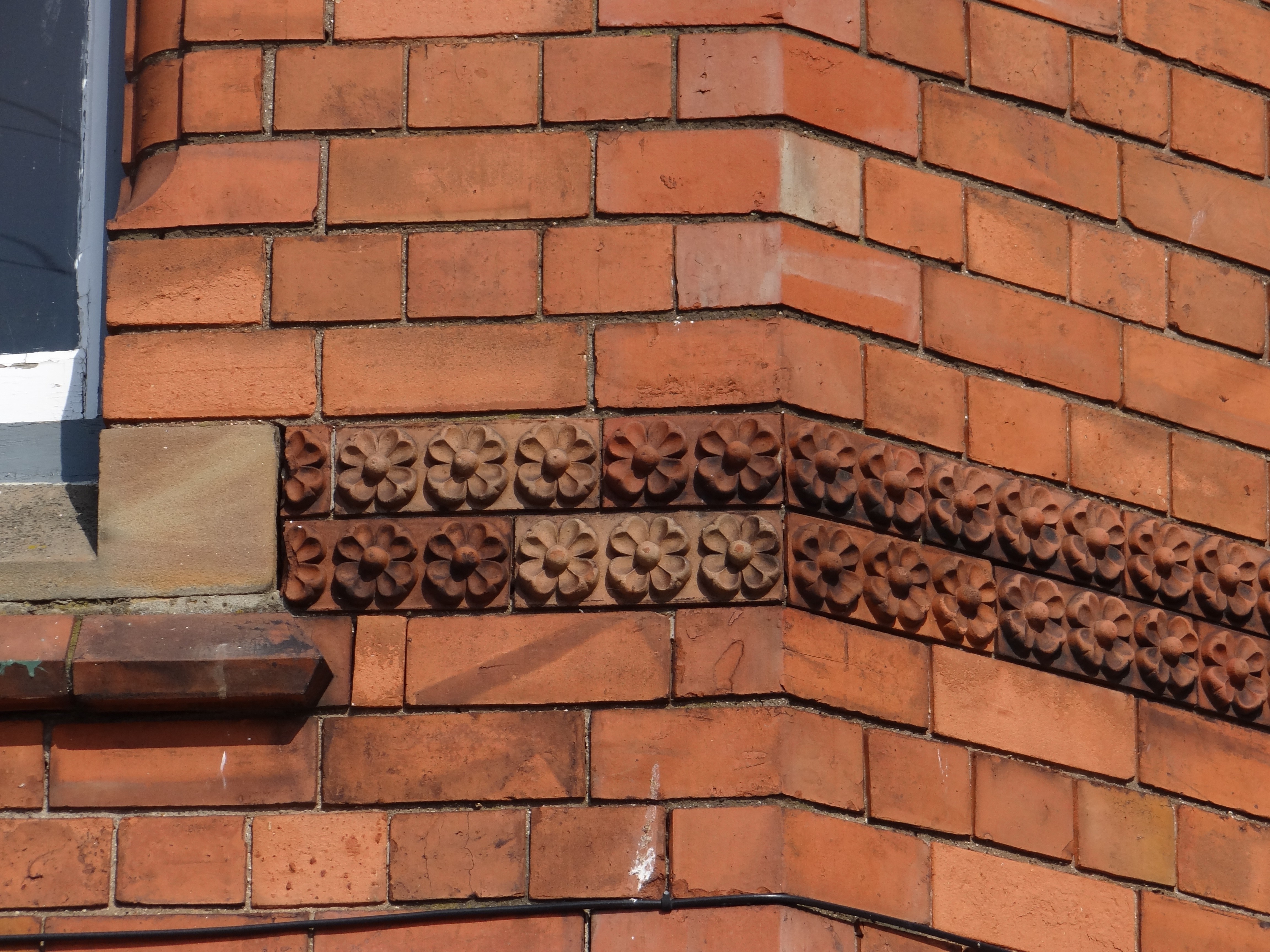 Decorative brickwork on the building. Photo: July 2013



According to the book 'Woodhall Spa Past and Present', in a section about the Gladwin's shop, it tells us the building was "... part of Humpherson's Engineering Works before becoming Gladwin's."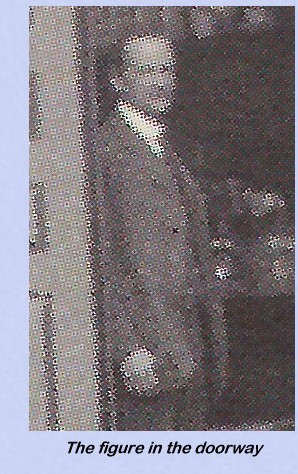 The book further tells us "In an advertisement of 1920, Mr. Gladwin claimed he had served customers here "for 30 years past, as manager then proprietor." Should I be fortunate enough to visit this area again I shall have to try to find this advertisement - perhaps the library or local history group might be able to help.

A photograph of the shop in the book shows a man stood in the doorway - this may be Edwin, but of course, I do not know.

I did scan the picture in order to zoom in to see it in greater detail, but alas, as with much printed material, the shiny paper is difficult to scan and results are not particularly good. Zooming in for a closer look is not very successful as the picture deteriorates too much to see any detail.

I shall have to contact the author to try to find out where she obtained the original photograph and then try to obtain my own copy. In the meantime I can only want it to be him!

I discovered the book thanks to the staff at the local Woodhall Spa Cottage Museum. I went in to ask if they could tell me about Beaufort Works and when I explained why, they were full of enthusiasm and gave me several leads to follow, and one of their members had remembered Gladwins being mentioned in a book on their shelves.

That book is now one of my family history treasures - Edwin is mentioned in several places and even has two whole pages to himself! I was reassured I could copy the relevant pages from the book to put with these notes, which was published by the Museum, and they were delighted to see some photographs of Edwin's birthplace and childhood home.

Another person showed me a form Edwin had filled in about the rateable assessment of his premises in 1925. She allowed me to take photographs of the document and I must admit to touching the page and signature knowing Edwin had done so too.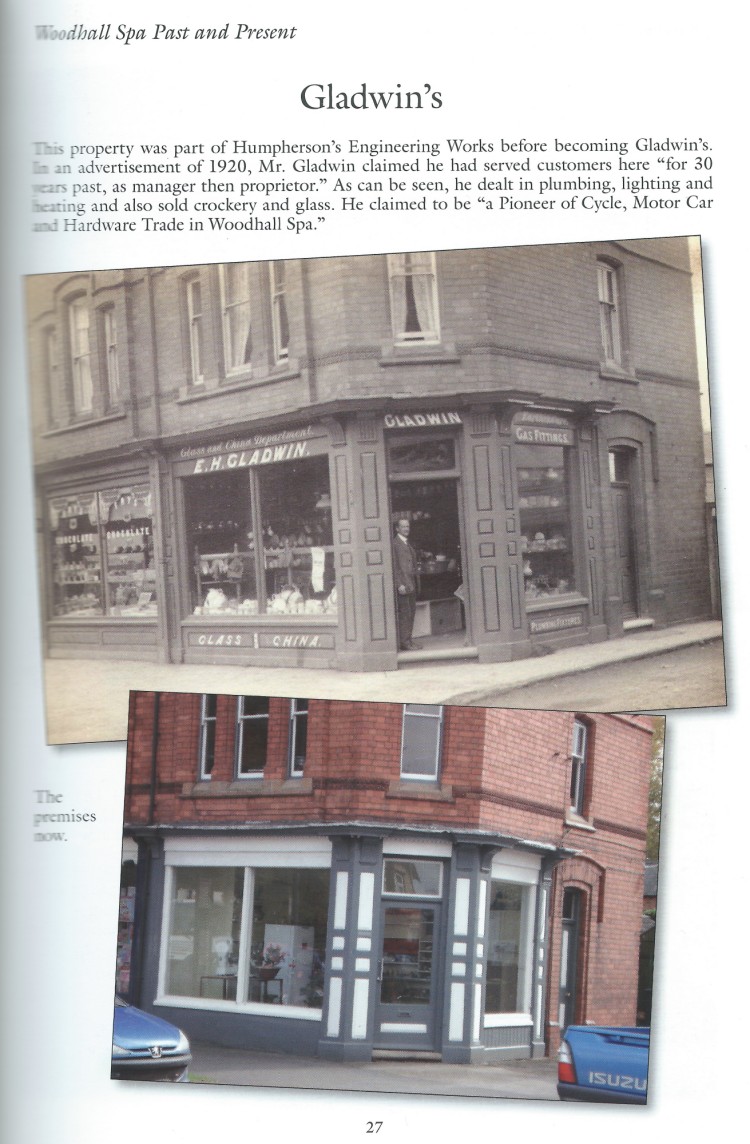 Top picture - the shop when Gladwin's - but who is stood in the doorway?
Page 27 from 'Woodhall Spa Past and Present' by Margorie Sargeant.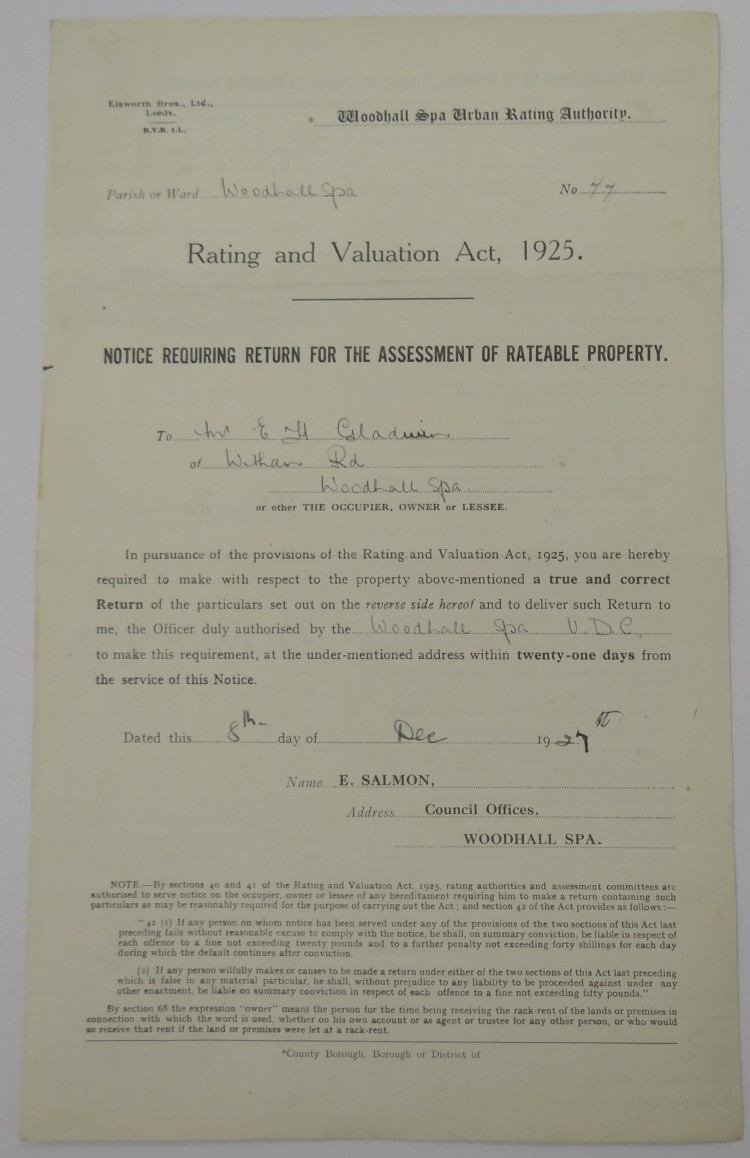 Assessment of Rateable Property form, dated 8th December 1927.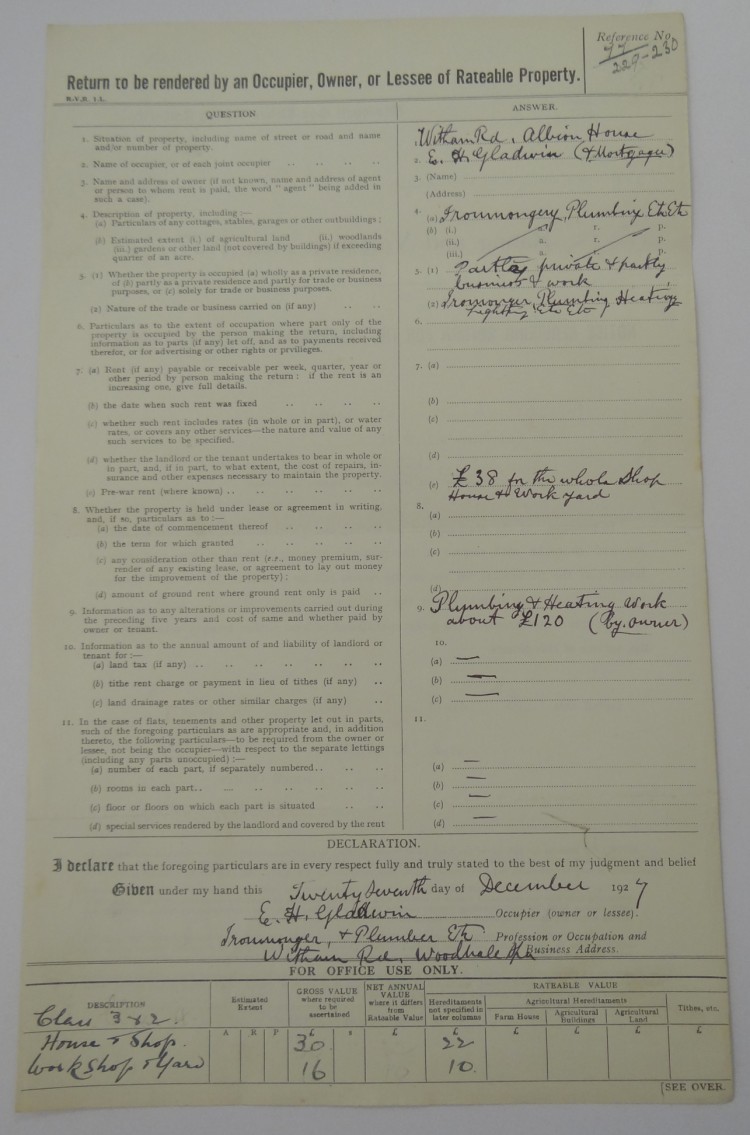 The signature on the form.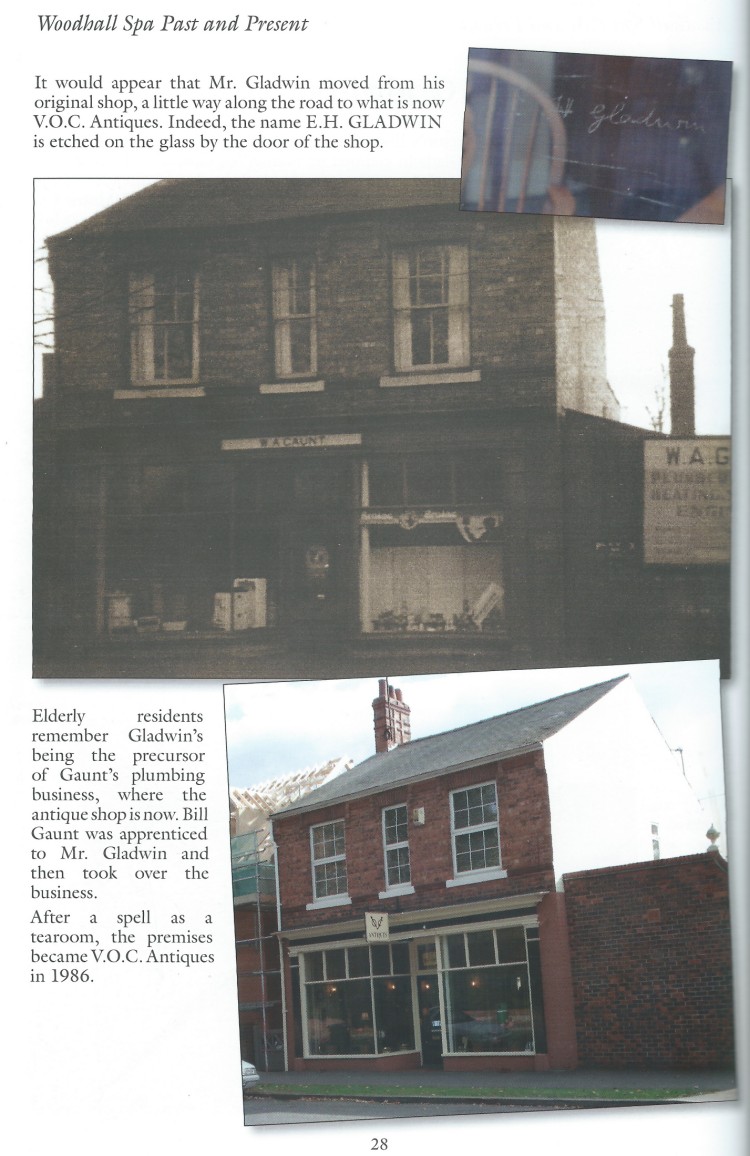 Page 28. The second premises of Edwin's business, 27 Witham Road.




Edwin owned another shop, just a bit further along the same road, this time number 27 Witham Road. At the time of our visit it was occupied by VOC Antiques.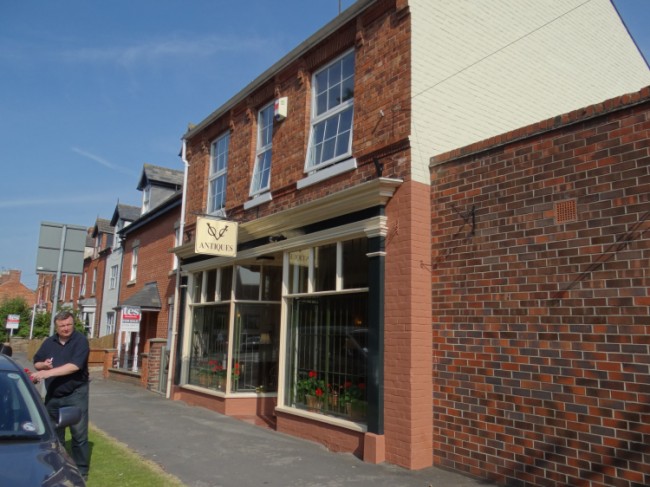 27 Witham Road, Woodhall Spa. Photo: July 2013




We were told that Edwin had etched his name into the glass of the shop front window. It is one thing taking a photograph of the outside of a building, but to take a photograph of the etching meant we would need to be quite intrusive so thought it only polite to ask the shop owner's permission. So, we went in and asked the owner if he would mind us taking a few photographs and asked if he knew where the etching is. He had not heard about this and had never noticed it but was intrigued. He told us as far as he knew the windows were the original although one pane had been replaced due to a vehicle smashing into it. We hoped it wasn't the window we were looking for.

For the next ten minutes passers-by were treated to the spectacle of four grown-ups scouring every inch of the windows with faces just inches from the glass.

But success! It was still there. I wonder how many people had noticed it as they went in and out of the shop for all these years. Even the owner said he'd never noticed it and he had cleaned that window hundreds of times.

We discovered the camera struggled to focus on the glass - it was focusing on the objects in the room instead. The solution was to put a blank piece of paper behind the signature. We also discovered it is hard to photograph glass without getting the reflection of the camera but there's not a lot we can do about that.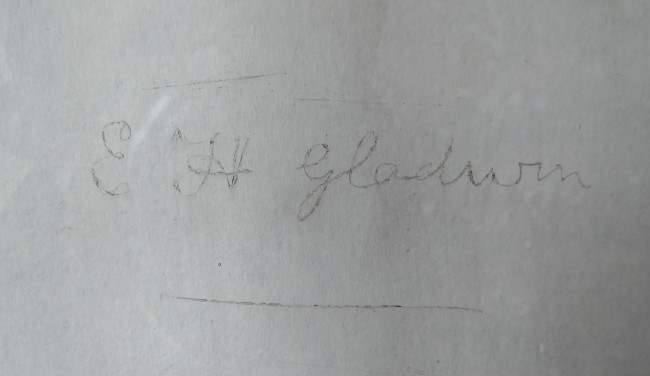 E. H. Gladwin's signature etched into the window. Photos: July 2013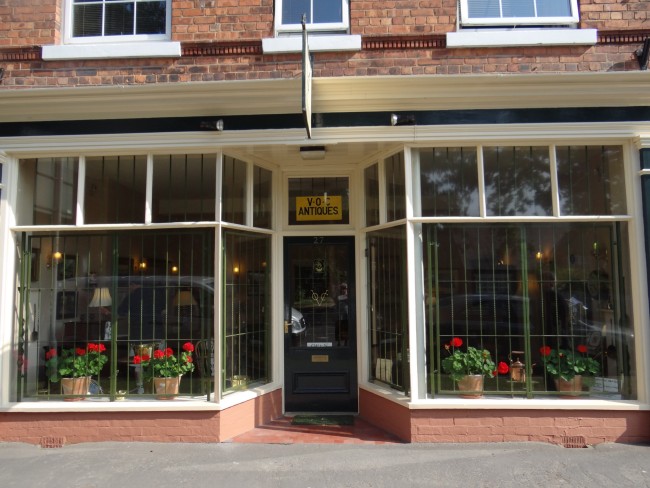 Another facet of Edwin's life we have learnt about is he was Captain of the Fire Brigade in Woodhall Spa. At that time the firemen were all volunteers, showing Edwin to be a civic minded person as well as a successful businessman.

We were contacted (due to our website plea for information about Edwin) by Heather who sent us some photographs of Edwin. Quite honestly, I can say they are an absolute highlight of this research!

To actually see what Edwin looked like after all those years of searching means so much to us and we are very grateful that a complete stranger went to all that time and trouble to send them to us.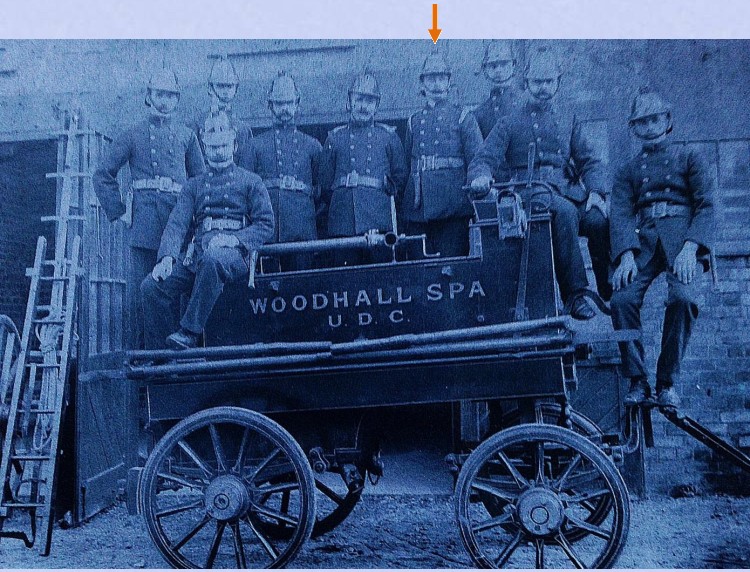 The Woodhall Spa Fire Crew. Edwin is 4th from right



In the four photographs we have of Edwin in his uniform he has an object hanging from his belt which looks like wound-up rope. I wonder what happened to them and his uniform.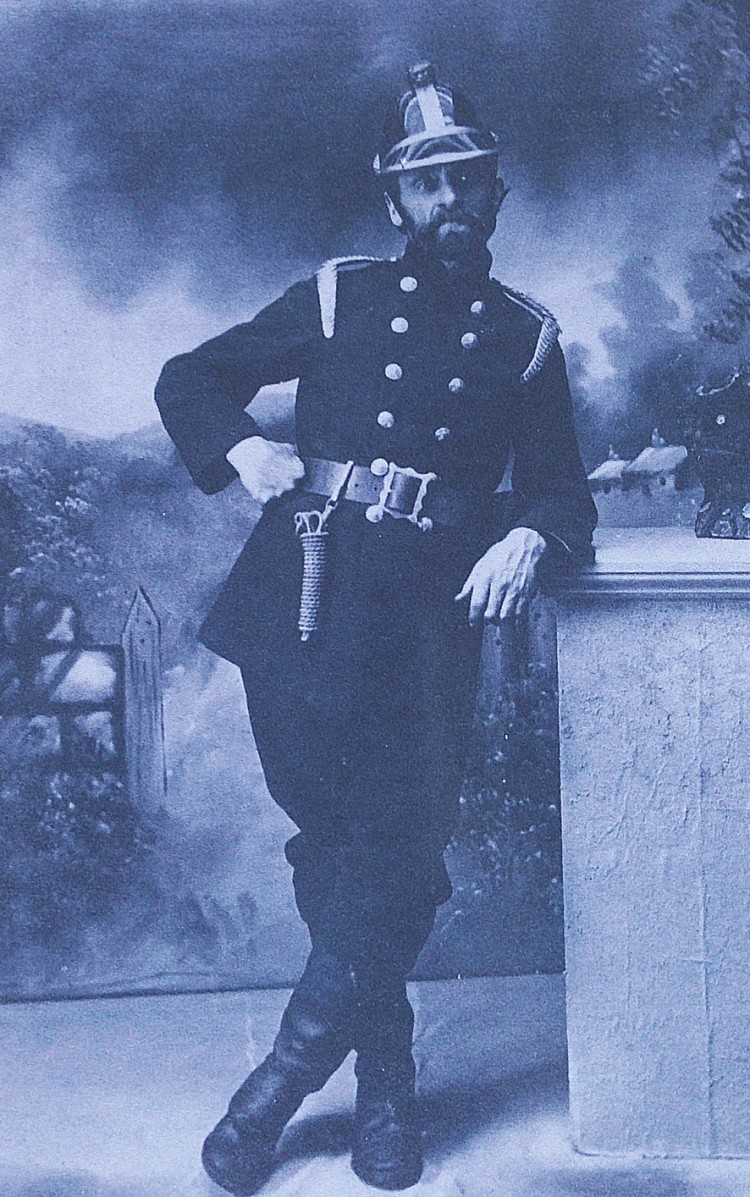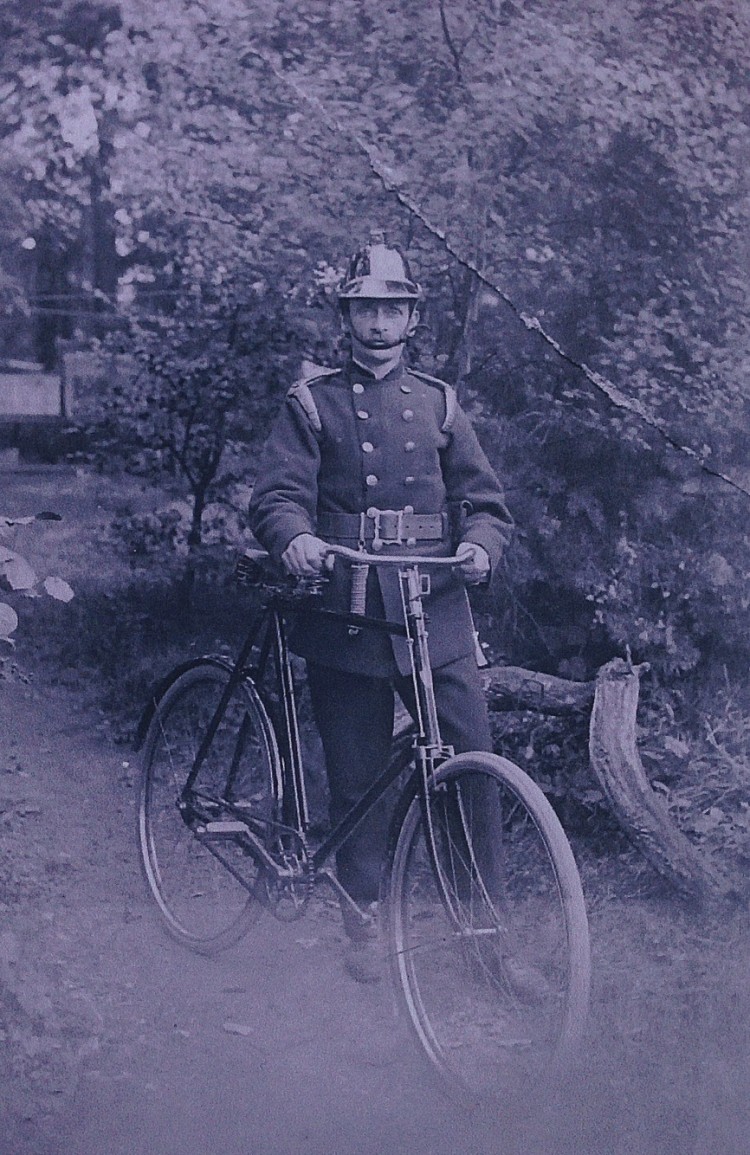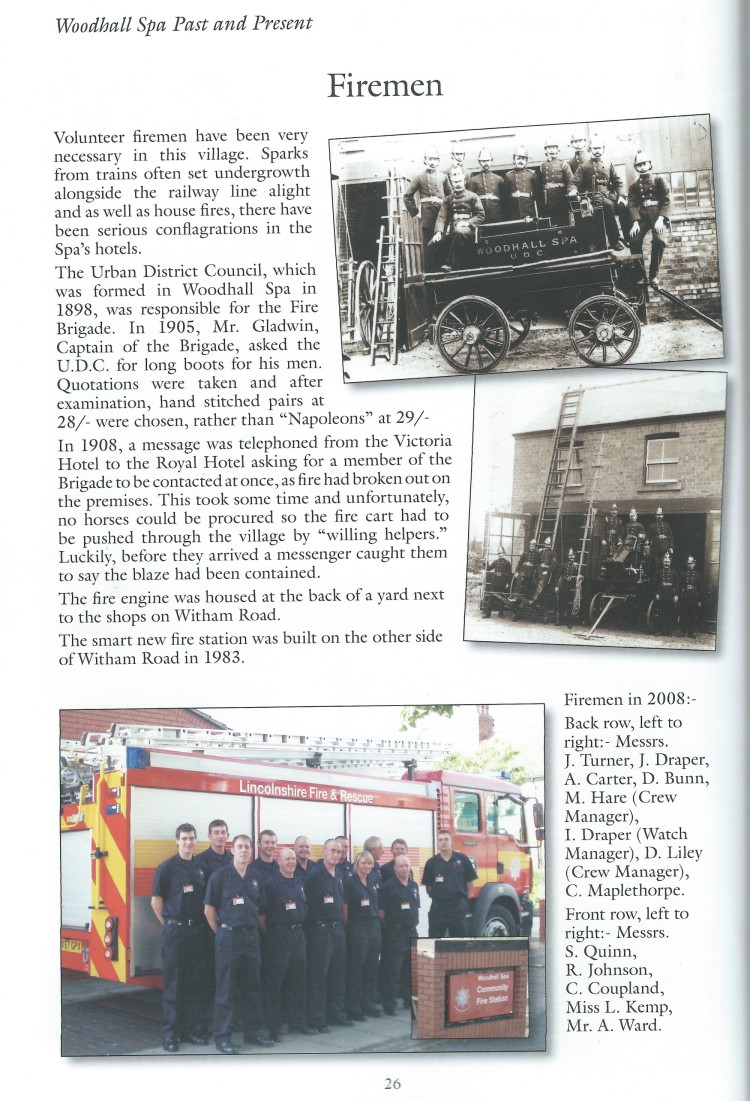 Page 26 of the book.


The two older photographs in the book (Page 26) have Edwin in them and we were able to tell the Museum staff which one was him so they now have a record of at least one of the fire-fighters in the photograph.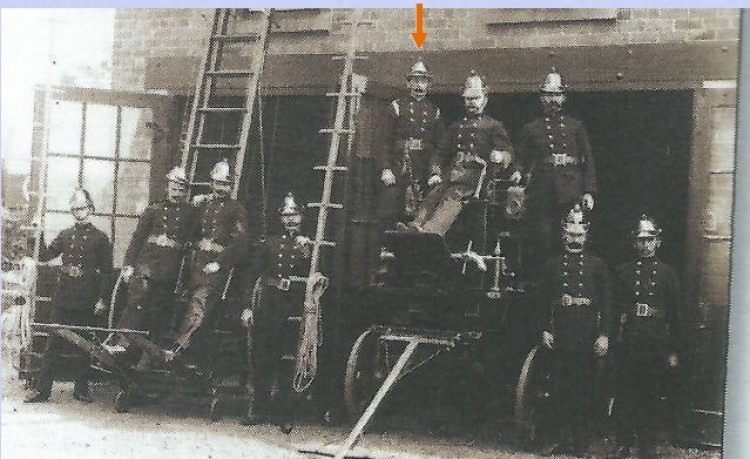 Edwin is in the centre.



The old fire house is now a private residence. It is located behind the shops in Witham Road, accessed down an alleyway next to Edwin's shop.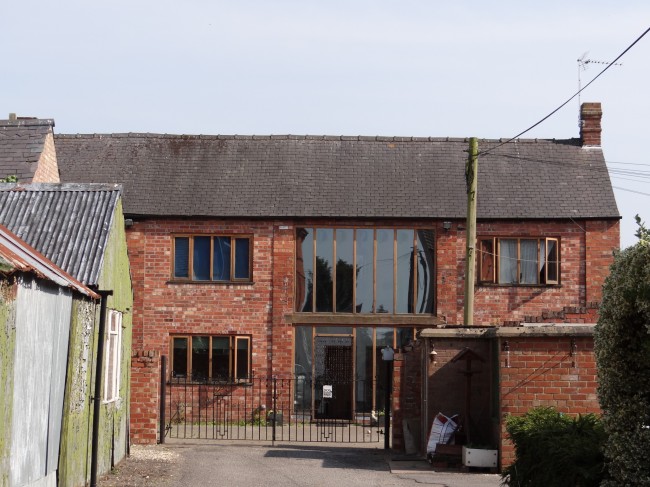 This was the fire house during Edwin's time as a volunteer. Photo: July 2013



Heather's grandmother, Alice, was a nurse at the Alexandra Hospital and she and Edwin struck up a friendship. Heather's family have postcards written between Edwin and Alice and they kindly scanned and sent some so we can also see Edwin's style of writing.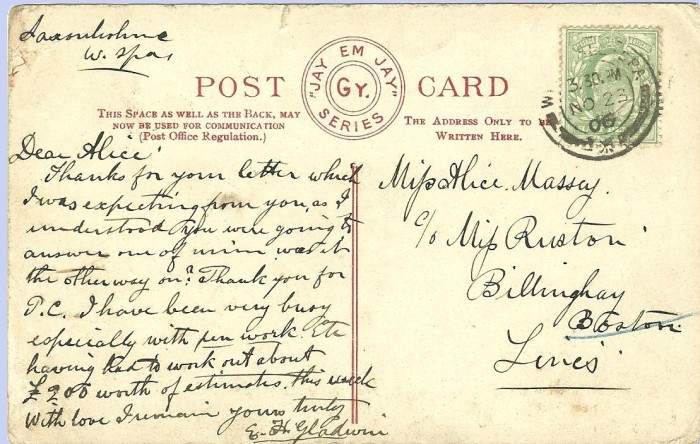 Postcard dated 23rd November 1906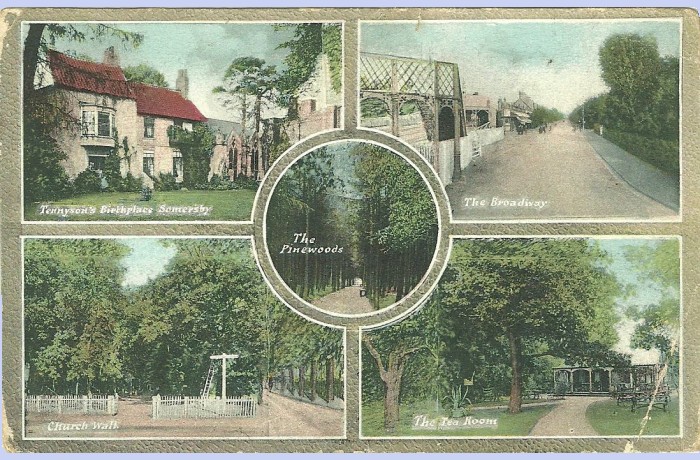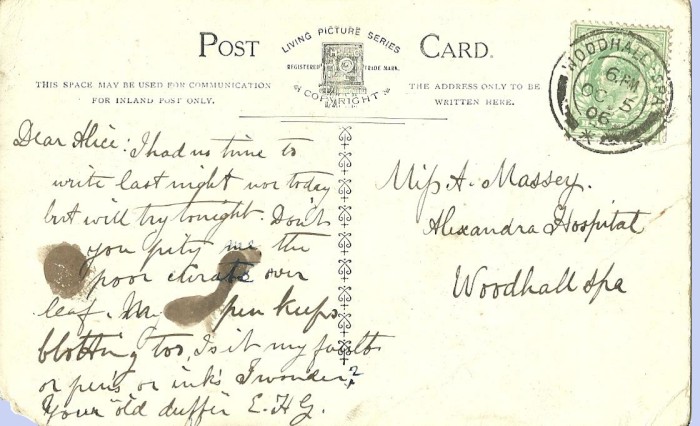 Postcard dated 5th October 1906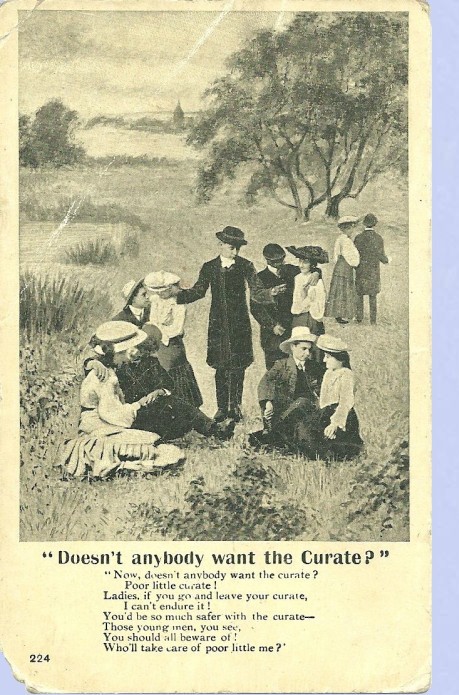 As Heather pointed out, at that time postcards were the equivalent of what email and texts are today for communicating.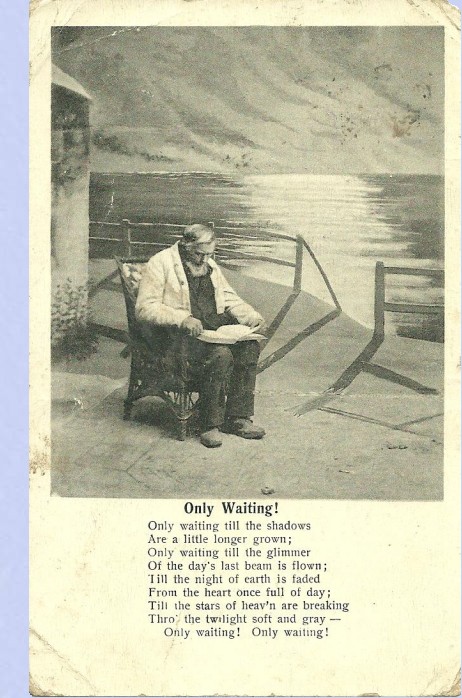 This postcard has the message written on it upside down. We gather there used to be all kinds of hidden meanings when writing postcards - no doubt so any parents reading them would not understand what was really being said!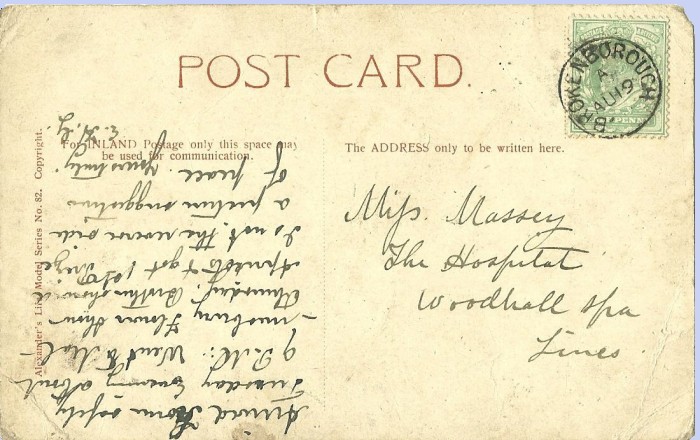 Postcard dated 9th August (year not known).




On 5th April 1915 Edwin married Fanny Elizabeth Cook in the Methodist Church in Queens Street, Horncastle, Lincolnshire. (The church has been demolished and another built in its place.) Five years later their only child, a daughter named Eleanor Hope Gladwin, was born in March 1920.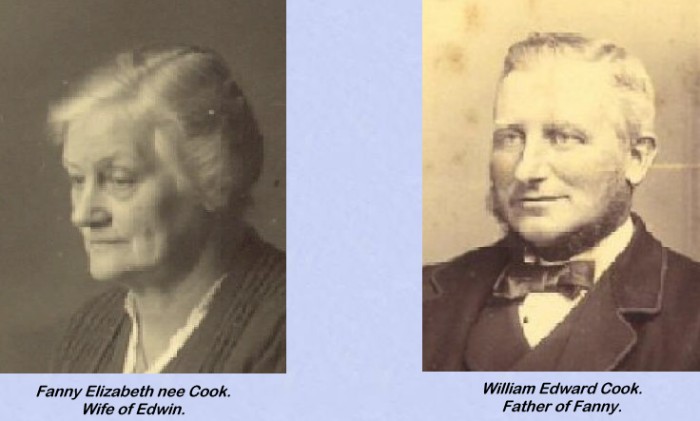 Fanny Elizabeth cook was the daughter of William Edward Cook, and was born 27th April 1882 in Hertfordshire. When they married she was 32 years old. She died aged 89 years and is buried in Kirkby Lane Cemetery, Woodhall Spa.

Daughter Eleanor Hope Gladwin married Albert George Bongers in 1974 in Middlesex, when aged 54 and he 60 years. Albert was born 25th September 1914 and died 11th November 1975 – the year after they married. Albert is also buried in the Kirkby Lane Cemetery.

We visited the graves of Fanny and Albert and left flowers.

Eleanor died 2nd April 2004 in Inverness, in the Highlands of Scotland. How she came to be in Scotland we do not know, and we do not know where she is buried.

[Removed due to copyright: Copy of Marriage certificate of Edwin and Fanny]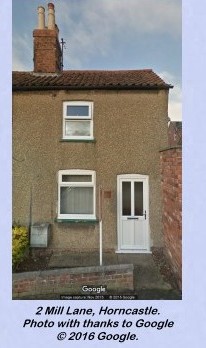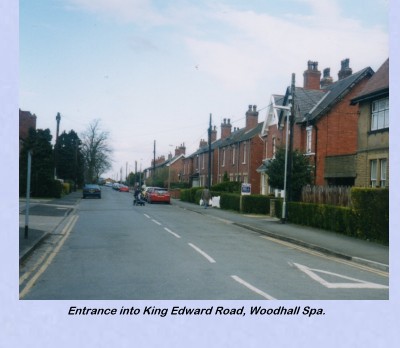 The marriage certificate shows Fanny was living at 2 Mill Lane, Horncastle at the time of their marriage and Edwin in King Edward Road, Woodhall Spa.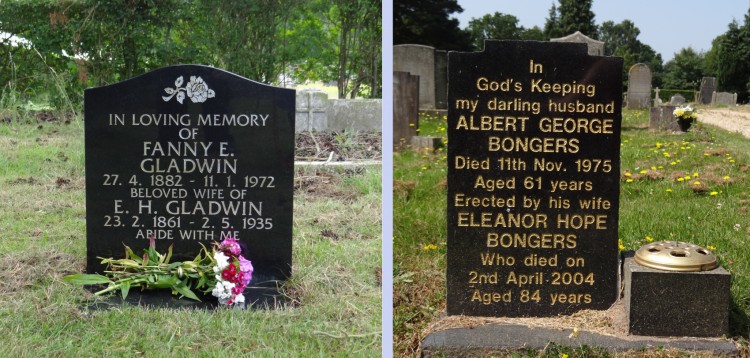 The graves of Fanny Elizabeth Gladwin (left) and Albert George Bongers. Photo: July 2013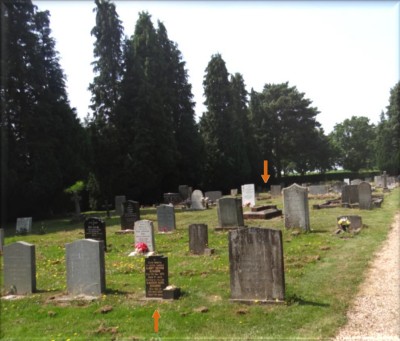 Part of Kirkby Lane Cemetery.
Albert's gravestone is in the first row, second from right.
Fanny's gravestone is second from last row, and furthest left -
it is in the shadow of the trees and therefore not visible in
this photograph. Photo: July 2013



According to Edwin's death certificate he died in Albion House, Woodhall Spa, which I understand was in either Tattershall Road or Witham Road. On our visit we were unable to find Albion House and the staff in the library were unable to help us, so this is something for further research. Perhaps it was a nursing home? Perhaps his own home?

Edwin died of pneumonia and influenza on 2nd May 1935 aged 74. It would appear he had a full life having lived in various places, eventually settling in Woodhall Spa where he ran a business and was the fire captain, married and became a father.

The probate record for 1935 shows the following entry:


GLADWIN Edwin Hope of Woodhall Spa, Lincolnshire died 2 May 1935 Probate Lincoln 20 August to Fanny Elizabeth Gladwin widow and Benjamin Ebenezer Brighton factory manager. Effects £1,711 6s. 11d.


Thanks to the library staff we learned Edwin was one of the very last burials at the local church, St. Andrews, so our next journey was to its churchyard to find his grave.

Although our trip to Woodhall only lasted a couple of days we had done so much - found places and buildings, hunted for signatures, visited libraries, museums, graveyards and met some very helpful people, even found he had a write up in a history book. All of this and my years of research and all the people who had helped us to get to this moment went through my mind as I sat by myself at Edwin's grave. My thoughts I shall keep to myself but I do admit to shedding a tear. That is how much you become emotionally involved, embroiled into the lives of people you've never known, when you start researching your family history. They come to mean something to you.

Everyone comes across a 'brick wall' at some time in their research and Edwin had been mine. What a journey.

I had found Edwin.







Edwin's headstone is the rectangular one in the foreground, towards the right. Photo: July 2013


Just left of centre you may spot a red brick wall - this house is on Witham Road, where Edwin's businesses were located, just a short distance along the road from this house.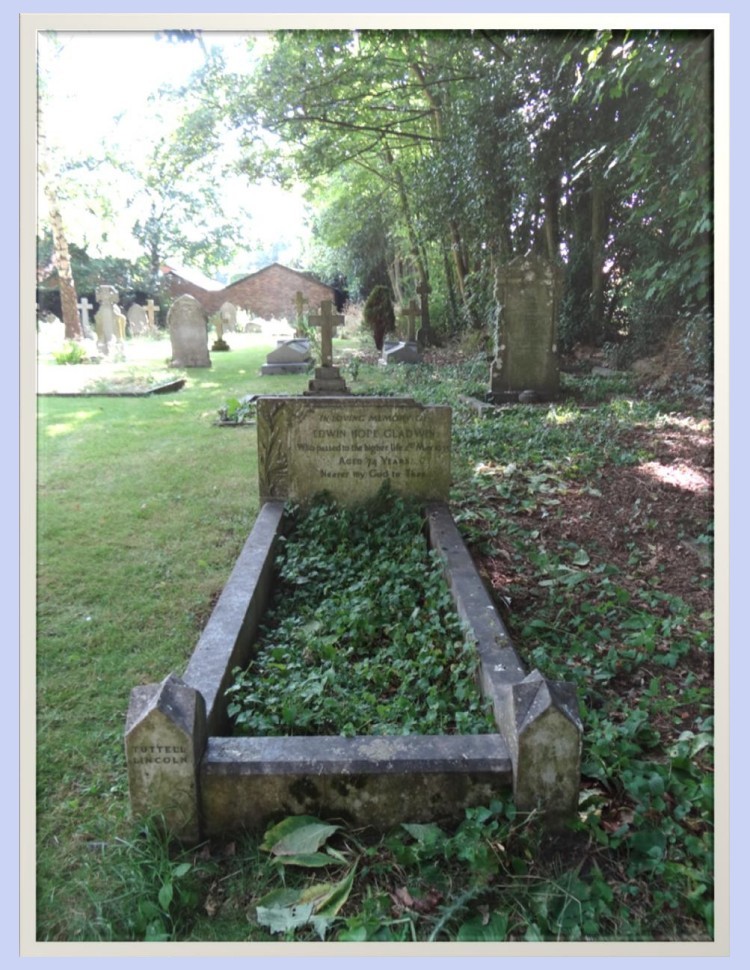 The grave of Edwin Hope Gladwin in St. Andrew's churchyard, Woodhall Spa, Lincolnshire. Photo: July 2013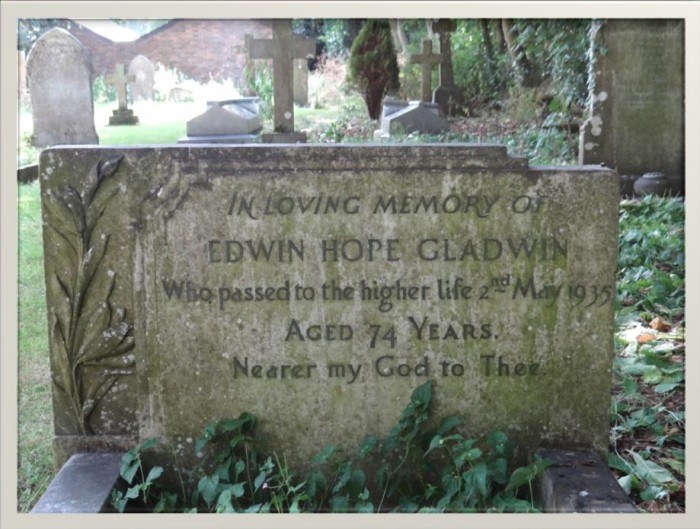 The Headstone. Photo: July 2013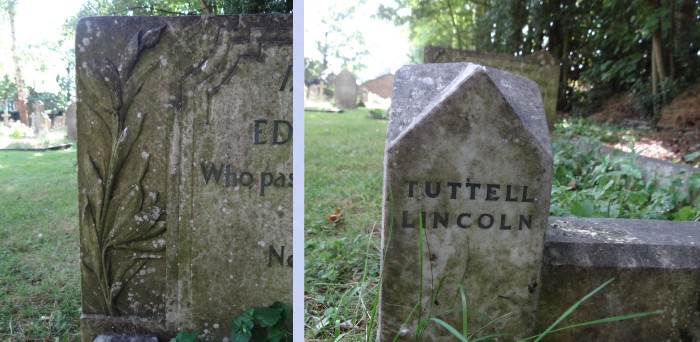 The carving on the headstone (left) and the company who supplied the grave (right). Photo: July 2013



[Removed copy of Edwin's death certificate.]

In case any other member of the family might wish to visit Edwin's grave I have included photographs and directions to help find it.




Photo Map thanks to Google and Imagery ©2016 Getmapping plc, Map data ©2016 Google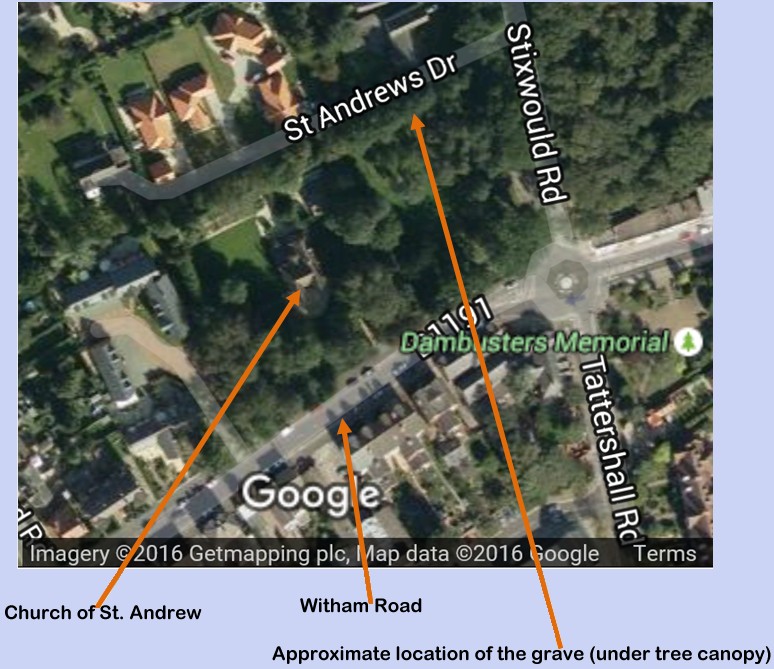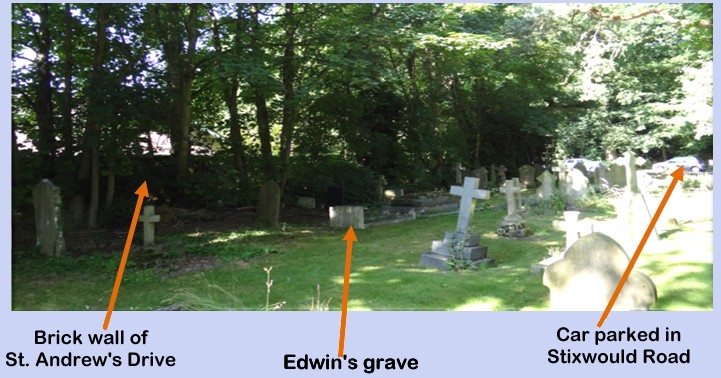 Photo: July 2013
Chapter 5 - The Gladwins
Chapters 4 & 6 - Sarah Hannah Gladwin
Chapter 5a - Edwin Hope Gladwin
---
---

Tip: hold "shift" and click on link to open in new window